Leadership is the hardest skill to find in employees. Furthermore, 64% of the 1000 employees surveyed said leadership was deficient in their organization. – Workplace Trends' Global Workforce Leadership Survey (Mar. 2015)
Why are Traditional Leadership Development Programs Ineffective?
Design your leadership training program without proven adult learning techniques and as much as 80% of your training investment is flushed down the drain.
Design your program without consistent metrics and most will ultimately consider it a failure, even when significant progress is achieved.
If it's time your Leadership Training and Development Programs produced results – we can help.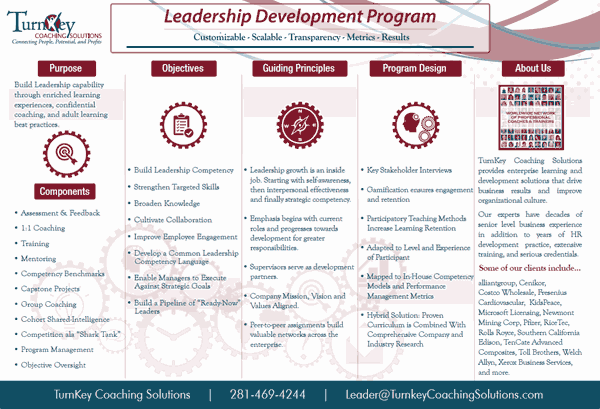 Comprehensive Learning & Development Programs
Our Leadership Training Program builds leadership capability through enriched learning experiences, confidential coaching, facilitated cohort interaction and adult learning best practices.  Our consultative process enables clients to build their ideal program with a variety of options including assessments and feedback, 1:1 coaching, training, gamification, e-Learning modules, mentoring, competency benchmarks, capstone projects, group coaching, shared-intelligence, and investor panel presentations ending in a competition and celebration.
We feel strongly that the most effective learning and development program take into account the organizational goals as well as the individual needs of each participant.  This is why our programs are entirely customized to be a specific match to your organization's mission, vision, values, level of leader/participant, and budget.
In a hurry?  Call us for a complimentary consultation – 281-469-4244 or Contact us here.
First, what are your leadership training goals?
Our leadership training program consultant will work to understand and design the program to meet your company's objectives.
Succession planning?
Retention?
Engagement?
Culture Change?
Values development and alignment?
First-time Managers?
Collaboration?
Emotional / Social Intelligence?
Innovation?
Critical Thinking?
Develop Leadership Competency?
High-Po Development?
Interpersonal Effectiveness?
Business Savvy
What are you currently doing?
Next, we seek to understand, what does your organization currently do to develop employees?  And, what's working and what's not working?  (Note: Many organizations do not have internal programs, competencies, or even key performance indicators.  We work with our clients to build the right program – whether that's from the ground-up or only a few missing modules.)
Leadership competencies?
Key Performance Indicators?
Success Measures?
Internal Mentors?
Performance Management Process?
Top-down support?
Assessment & Feedback?
Learning models?
What's happening at your company?
We will seek to understand your current culture, goals, challenges, and upcoming opportunities.
Recent changes?
Acquisitions or Mergers?
Explosive or Diminishing Growth?
Performance Problems?
Management Change?
Mission?
Values?
Goals?
Strategic Plan?
Other initiatives? Recruiting initiatives? Organizational Surveys? Process Improvement  implementations? Etc.
Our comprehensive leadership training program may include any or all of the following, depending upon your company's situation, goals, and budget and selection:
Assessment & Feedback
1:1 Coaching
Training
Blended Learning
E-Learning Modules
Adult Learning Best-Practices
Mentoring
Competency Benchmarks
Capstone Projects
Group Coaching
Cohort Shared-Intelligence
Competition ala "Shark Tank"
Gamification
High-Tech Performance Management SAAS
Program Management
Objective Oversight
Call us for a complimentary consultation – 281-469-4244 or Contact us here.
We work with you to customize and design your program:
Key Stakeholder Interviews
Gamification to ensure engagement and retention
Participatory Teaching Methods to Increase Learning Retention
Adapted to Level and Experience of Participant
Mapped to In-House Competency Models and Performance Management Metrics
Hybrid Solution: Proven Curriculum is Combined With Comprehensive Company and Industry Research
Downloads:
Training Solutions
We offer a comprehensive suite of leadership training & development programs in 200+ cities across America.  Our professional, certified trainers facilitate keynotes, workshops and executive team retreats around a wide range of learning and development topics including conflict management, customer care, sales, leadership competency, team development, emotional intelligence, social intelligence, a coach approach to leadership, strategic planning, and 400+ other topics.
Coaching Solutions
We have vast experience with sophisticated corporate coaching programs for all leadership levels, from frontline to high-potential to global executive teams. Our systems, procedures and processes were specifically designed to handle large-scale contracts, while still serving the unique needs of each participant. Our quality control processes ensure top-notch program management and professional coaching focused on business results and related leadership or strategic competency.
Scalable
Most enterprise providers offer "cookie-cutter" training services that fail to adapt to the industry, culture, goals, etc.  That's not what we do.  For our cross-organizational or multi-channel initiatives, our lead trainer creates a "train the trainer" workshop with every engagement.  Then, we work with our team of trainers to ensure a consistent, high-quality training for each site.
Quality Design
We have a team of full-time, professional trainers across the United States. Your HR team has an opportunity to interview and select your trainers from our vetted, team of experts.  Once selected, your trainers work together and thus will never be taxed by the number of participants, travel, logistics, etc.
Additionally, our sophisticated systems for managing scalable programs, allow us to not only provide affordable solutions, but add a layer of objective oversight, quality control, transparency and ROI tracking, that simply put, is unmatched in the industry.
Strategic Alignment
We are proud of our hybrid solution in which we take our off-the shelf training modules and combine with company research, key stakeholder interviews, and relevant Strategic Alignment review to deliver a customized learning experience.  We make sure that your workshops are relevant, engaging, memorable and an ideal match to your organizational objectives.
In a hurry?  Call us for a complimentary consultation – 281-469-4244 or Contact us here.