Offering a comprehensive suite of leadership training & development programs available in 200+ cities across America.
Our professional, certified experts facilitate executive retreats, keynotes, workshops, team development training, strategic planning, conflict management and supervisor training, mission, vision, and values sessions and more.
TurnKey Coaching Solutions, as a global coaching program management and contract coach staffing company provides scalable, enterprise training and coaching program solutions. Guaranteed high quality teams of coaches are hand picked, trained, matched with clients, and supervised in response to corporate needs for greater accountability.
TurnKey's Unique Qualifications are:
Broad–based experience with sophisticated corporate coaching & training programs
Systems, procedures and processes specifically designed to handle large-scale contracts
Dedication to coach training and development
Comprehensive quality control processes that ensures top-notch program management, coaching delivery, and customer satisfaction
Sophisticated, interactive communication portal that is customized for each client
Our Customized Hybrid Training Approach
TurnKey Coaching Solutions has developed a hybrid solution – proven leadership competency instruction, combined with 360's and individual assessments and "company culture" research to create an unparalleled training experience.
By building upon our trainer's off the shelf framework, our pre-launch customization process provides companies with a training and development solution that reflects their unique culture, objectives, policies and processes.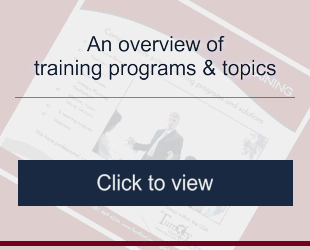 To craft the content to be company specific, we often:
Conduct pre-event interviews with key stakeholders
Utilize a customized, anonymous survey
Facilitate the survey results with input from senior leaders, supervisors, and an appropriate number of front line specialists for a well-rounded view
Provide an aggregate report of the survey results
Integrate the findings into our Leadership curriculum, for a tailor-made learning program
Conduct a coach team training to disseminate the pertinent findings for a more intimate coaching experience
Our Leadership Training Packages:
Training Time-Commitment
Depending upon the Leadership or Team Development model selected, programs focus upon 5 to 10 Modules, delivered over one to four full-day, active-learning workshops. However, we can also customize a program to deliver the leadership curriculum in bite-sized solutions such as half-day or 90-minute lunch and learns, when necessary.
Fees Include
Program fees include workshop manuals, key-stakeholder input, workshop preparations, assessments/reports, group debriefs and trainer's customization time. Fees vary dependent upon trainer selected (after interview process), chosen leadership competency model, customization process, number of participants, assessments and resources required, etc. Please call for a customized quote.
Active-Learning
Our active-learning methodology engages training participants. Participants interact, discuss, review, reflect, defend and even refute the training material as a means of becoming intimately involved with the material. This active training style employs proven techniques designed to address various adult learning modalities that deepen the training outcomes and help participants retain more of the learning objectives.
Focus
The leadership training is focused upon integrating the selected model. TurnKey Coaching Solutions expert trainers have delivered tens of thousands of programs including popular, proven "best-seller" models such as Strengths-Based Leadership, The Work of Leaders™, The Five Behaviors of a Cohesive Team™, Everything DiSC Workplace, Everything DiSC Management, and The Leadership Circle Profile™ to uniquely designed Leader as Coach training and more including customized, ground-up training solutions.
A more thorough agenda and timeline is developed based on stake-holder input and our customization process.
Read about THE FIVE BEHAVIORS OF A COHESIVE TEAM™, our flagship leadership team development program here, call 281-469-4244 for more information or contact us by filling in this form:
Trademark Acknowledgements:
Everything DiSC® Work of Leaders®, Everything DiSC® and The Five Behaviors of a Cohesive Team are registered trademarks of John Wiley & Sons, Inc. All rights reserved.
The Leadership Circle Profile® is a registered trademark of The Leadership Circle Group. All rights reserved.
Any trademarks or logos used throughout this website are the property of their respective owners.