Your Team Can Do Better.
THE FIVE BEHAVIORS OF A COHESIVE TEAM is an assessment-based learning experience that helps individuals and organizations reveal what it takes to build a truly cohesive and effective team in the most approachable, competent, and effective way possible. Powered by Everything DiSC®, the profiles help participants understand their own DiSC® styles. Bringing together everyone's personalities and preferences to form a cohesive, productive team takes work, but the payoff can be huge — for individuals, the team, and the organization. Download the program brochure
Join us at a local Team Development Demo/Roadshow, attend a breakfast workshop on us, see our Tour Stops here: https://turnkeycoachingsolutions.com/five-behaviors-of-a-cohesive-team-roadshow-events/#dates
Also providing team development programs in Houston, Boston, Knoxville, San Francisco/Oakland, Salt Lake City, Austin, Wichita, Miami, Orlando, Tulsa, New Orleans, Raleigh, Detroit, Los Angeles… and all across the USA.

Video: Introduction to The Five Behaviors of a Cohesive Team Model
The single most untapped competitive advantage is teamwork. To gain this advantage, teams must:
Trust One Another
When team members are genuinely transparent and honest with one another, they are able to build vulnerability-based trust.
Engage in Conflict Around Ideas
When there is trust, team members are able to engage in unfiltered, constructive debate of ideas.
Commit to Decisions
When team members are able to offer opinions and debate ideas, they will be more likely to commit to decisions.
Hold One Another Accountable
When everyone is committed to a clear plan of action, they will be more willing to hold one another accountable.
Focus on Achieving Collective Results
The ultimate goal of building greater trust, conflict, commitment, and accountability is one thing: the achievement of results.
What does this program do?
The programs help teams and individuals understand how they score on the key components of The Five Behaviors model: trust, conflict, commitment, accountability, and results. Each individual on the team will also understand their own personality styles contribute positively or negatively to the team's overall success.
Do you have team development programs for  Cross-Functional Teams? 
Yes. There are two programs that can be customized to your group or team's needs.
The Five Behaviors
™ 
 Personal Development program
 is for cross-functional groups or teams that may or may not have direct accountability as a team. Think of this program like a development program designed to cultivate greater collaboration by building better team players. For more on how to cultivate a culture of collaboration, please visit 
https://turnkeycoachingsolutions.net/5BCT_IdealTeamPlayer
The Five Behaviors™  of a Cohesive Team program 
is for intact teams and is ideal for executive and leadership teams, or project teams who could do so much better if they could improve communication, collapse silos, eliminate unhealthy conflict and become a high-performing, cohesive team driving for results, together, please see 
https://turnkeycoachingsolutions.net/FiveBehaviors_TeamDevelopment
How does it work?
The Five Behaviors Model is used to help team members learn to work together more efficiently and effectively and become a more cohesive team. A productive, high-functioning team that achieves the following:
Makes better, faster decisions
Taps into the skills and opinions of all members
Avoids wasting time and energy on politics, confusion,
and destructive conflict
Avoids wasting time talking about the wrong issues and revisiting
the same topics over and over again because of a lack of buy-in
Creates a competitive advantage
Is more fun to be on!

Orientation video: what to expect if you participate?
Who is it for?
The program is designed exclusively for intact teams and work groups. The Five Behaviors of a Cohesive Team harnesses the power of Everything DiSC and the clarity and simplicity of The Five Dysfunctions of a Team model.
The program includes:
Facilitator's Guide with 7 modules
PowerPoint® with over 40 minutes of video
Participant handouts with activities
Take-away cards for each of The Five Behaviors
Podcasts, online resources, and a research report
Read the Five Behaviors of a Cohesive Team Progress report FAQ
For more information on team building/training/increasing team performance contact us now:
Related resources: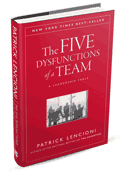 Recommended reading:
The Five Dysfunctions of a Team
The Five Behaviors of a Cohesive Team™ Research Report
Case study:
Team Building and Group Dynamics at Microsoft
Creating and fostering a culture of teamwork at Microsoft.
Pulling Healthcare Teams Together with The Five Behaviors of a Cohesive Team™
The study follows the journey of a Fort Myers, FL. radiology department at Lee Memorial Hospital, from dysfunction to cohesiveness.
Sample reports:
Individual Team Member Report
View an example of The Five Behaviors of a Cohesive Team individual team member report.
TurnKey Coaching Solutions is an Authorized Partner of The Five Behaviors of a Cohesive Team.
Trademark Acknowledgements: Everything DiSC® and The Five Behaviors of a Cohesive Team are registered trademarks of John Wiley & Sons, Inc. All rights reserved. Any trademarks or logos used throughout this website are the property of their respective owners.